The Good Neighbor NextDoor
September 2, 2020
NextDoor is a social networking service that provides "trusted connections and the exchange of helpful information, goods, and services." I am connected to our local NextDoor hub which links 37 neighborhoods within about a five-mile radius. There are always posts about a missing dog or a found cat, inquiries for a good lawn service, handyman, pet sitter, roofer, plumber and so on. Recently however, there was a real outpouring of neighborly love, concern and action and it appears that some of these folks did not even know the elderly lady who was the recipient of the good will gestures.
Apparently this dear lady had air conditioning problems and called a repair service that did not fix her unit properly but still charged her about $1,000 to work on it. She was still very hot and uncomfortable and one of her neighbors found out. She jumped to action and found a service to go out and fix the air conditioner and began to raise funds through the people connected on NextDoor. Incredibly, she was not only able to muster up the funds for the second repair, but most of the first repairs are also paid for by individuals pledging money in mostly $100 increments.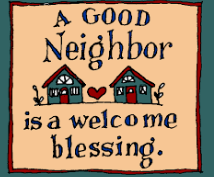 These good folks, neighbors all, took care of their elderly neighbor just as we are prompted to do in the Bible book of James. Pure religion is to look after widows and orphans in their distress; we are told this is pleasing and acceptable to God. (James 1:27) It was so wonderful to see neighbor helping neighbor, the strong advocating for the frail, the ones who could taking care of those had did not have.
There may be cities and communities where folks are disagreeing with each other, protesting and committing mayhem, but not so here. Not once did any of these kindly folks mention their political party, social status, or other point that could divide them. They all focused on the problem and being part of the solution, even as they were going about their lives that are sorely impacted by the Covid-19 virus. I doubt this is the first time they have helped a neighbor with a meal, repairs, a kind smile or an encouraging word.
My neighbors are doing well and fulfilling the law, "YOU SHALL LOVE YOUR NEIGHBOR AS YOURSELF," James 2:8. And they will be blessed because they gave freely and with love. "Give, and it will be given to you. Good measure, pressed down, shaken together, running over, will be put into your lap. For with the measure you use it will be measured back to you."
A good neighbor increases the value of your property. ~ Czech Proverb
I'm grateful for good neighbors.